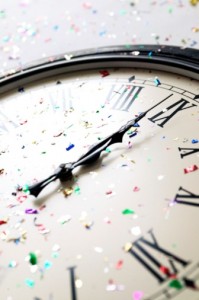 'Tis the season to think back and either wonder where the hell the year went or congratulate yourself on all that happened. If you're like me, you do a little of both.
For Heather and me, 2010 brought the completion of some important goals (finish writing my first book, check), new friends and experiences (hello, social media), and more outdoor adventures (Badwater #16 plus expeditions to the mountains, desert, and jungle).
We also spent several weeks at the corporate farms in Colorado, had time with the kids, and went to Winona to visit Heather's family. We even hit a spa in Mexico as my wife's reward for all that she did and put up with during my run across America in 2008 and the book project in 2010. Yes, I submitted to the luxury ministrations and treatments—all strictly for Heather's sake, of course. Oh, and this year, I also did something I rarely do: went on a  "real" vacation with friends, not an athletic adventure, just a really pleasant, somewhat leisurely bike ride from Telluride to Moab.
Meanwhile, this blog got a makeover, and I've begun posting more regularly in an attempt to give you somewhere interesting to read about extreme endurance sports, something useful to do in your own training, and someone experienced to ask if you ever need help.
Hmmmm, did I succeed? You be the judge.
Advice. Based on a reader's suggestion, we added the "Ask Marsh" page, where you can ask anything you want about training, nutrition, injury, strategy, what have you. This is where I act like a Dear Abby for athletes, sharing what I can about how to deal with the unique challenges of endurance sports.
Reflections. You've got your race recaps, movie reviews, book news . . .
Well, that's a start, not bad for 2010. I'm grateful to have this forum for sharing my experiences with you and for learning about yours. I'm also thankful that you're still reading, still responding to what you read here. Your comments and questions aren't just welcome, they're essential. Stay tuned in 2011 as we gear up for the book going on sale in April, starting with sneak peeks and "extras" as early as February.
So, if you haven't told me already, I have a question: What great adventures did you experience in the last year? Is there anything specific you'd like to see included here to help you in the coming year? I'd love to hear what you have planned and how I might be able to help you put your dreams into action.