Congratulations to Dean Karnazes, who finished his run across America today, completing 2,954 miles along the southern route from Anaheim, California to New York City in 74 days. As one of the "elders" of the ultrarunning community, I want to welcome him to a fairly small group of people who have crossed our country on foot. The 48-year-old covered an average of 40 to 50 miles a day, ran in all kinds of weather, and finished in good health. Props to you, Dean!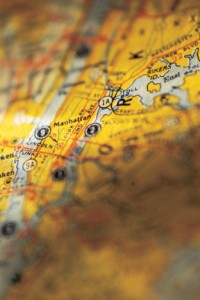 He wouldn't hesitate to admit that he's not the first, nor that quite a few others are engaged in the same pursuit right now — see USACrossers.com for a complete list. Dean Karnazes wasn't going for a record, either, but instead running to raise awareness of childhood obesity. Still, it's a relatively small crowd who've gone this distance. Since the early 1900s, the number of people who have documented crossing the country on foot (less than 250) is fewer than the number of people who have summitted Mount Everest (certainly more than 1,300; some sources say more than 4,500).
In the fall of 2008 and at the age of 57, I completed my own run across the United States, covering the "official" northern route of 3,063 miles from San Francisco to New York City in 52.5 days, averaging 60 miles a day and setting new records in the master's and grand master's divisions. Yet there are two people who've run across America on this route even faster:
Stan Cottrell, 37 years old in 1980, who ran 3,103.5 miles in 48 days, and
Also in 1980, Frank Giannino, then 28 years old, who set the world record by running 3,103 miles in 46 days.
Not the speediest, but definitely the most inspiring of the 20th-century transcons was the Bunion Derby held in 1928, a 3,422-mile stage race starting in Los Angeles and finishing in New York City, run mostly on Route 66, which was largely unpaved back then. Even more impressive: at a time before desegregation, the field of runners was composed of people from all walks of life, including non-whites. There were five African Americans in the running, and the winner of the race, Andy Payne, was a member of the Cherokee tribe.
Before that, there were the walkers, who were also defying limits and shattering stereotypes right at the turn of the century. Blowing out the age barrier, Edward Payson Weston ("Weston the Pedestrian") strode from New York City to San Francisco in just under 90 days … when he was 71 years old! Helga Estby and her daughter, Clara, were the first women to go such a distance unaccompanied by men when they walked from Washington state to the finish in New York City. In fact, they were the first people, men or women, to cross the United States on foot since the pioneers.
Bisecting America this way, seeing it one step at a time, puts you in mind of those earlier people searching for a new life, especially the pioneers in their wagon trains and gold rushers hankering after riches in the 1800s. All of them experienced a much more difficult passage than any of us who take it on as an athletic challenge or awareness- and fund-raising effort, no matter how worthy the cause.
The American fascination with transcontinental crossing must have begun in 1804, when President Thomas Jefferson gave Lewis and Clark the leadership of the first American expedition from the east to the west coast. Their discoveries were epoch-making: plants, animals, and tribes of people that settlers of European descent had never known before. It was an epic adventure, the kind of undertaking you can't possibly overstate.
Modern-day runners and walkers who cross this country shrink in comparison. But the self-discovery that happens when you're out there for weeks on end, covering great distances on foot, can be deeply meaningful.
For me, it meant a reconnection with and recognition of what makes this country so great, the love I have for my wife and children and the love they have for me, and secrets that lay within the confines of my mind, excavated only by experiencing the loneliness of the road. In my opinion, it's still a worthy pursuit.