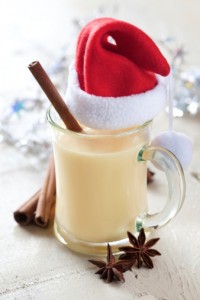 Home for the holidays! We've been on the road a bit since spring, so it's great to be back in our own place, firing up the Yule, getting ready to celebrate with family and family traditions, which in our house always includes the ritual nogging of eggs.
And yes, the way most people make it, the calorie count for eggnog pushes 350, and the nutritional benefits aren't so jolly, either. Around here, though, we make a "healthy" version. It tastes a lot like the real thing, especially if you're generous with the rum.
Healthy Holiday Eggnog
Adapted from
"The Complete Cooking Light Cookbook" by Cathy A. Wesler
2 ½ cups 2% reduced-fat milk
1 (8-oz.) carton frozen egg substitute, partially thawed
¼ cup nonfat dry milk
¼ tsp. Splenda
1 tsp. vanilla extract
1 tsp. rum flavoring or rum (plus a dash or two more)
1/8 tsp. ground nutmeg
6 ice cubes
Combine in a blender, and process until smooth. Pour into small glasses, and then sprinkle with a little extra nutmeg, if desired. Serve immediately.
Heather and I aren't crazy calorie counters, but we do pay attention. With other favorites on the menu for Christmas dinner, mixing up a more "virtuous" drink like this means we don't have to skimp on the butter or cream in the Lobster Newburg. Cheers!