Coming up on June 1: National Running Day. There probably won't be fireworks, special decorations, or party favors, because most of us runners prefer to "celebrate" by, well, running. (We tend to be single-minded like that.) Nothing fancy, just the road. Or the trail. Maybe a buddy or two who can keep up or push us to go faster or longer.
But it's also a chance to fly the running flag and encourage others to take it up.
Throughout May, Dick's Sporting Goods has been promoting National Runners' Month, offering special deals in its stores, sponsoring running events, and donating more than $25,000 to Action for Healthy Kids to help end childhood obesity. They've also had running superstars Kara Goucher, Ryan Hall, and Dean Karnazes out on the road as "ambassadors" to help promote an active lifestyle.
On Friday, I talked with Dean about it. Our conversation lingered, mostly, on his recently completed run across America, as we compared notes on recovery, how the effort affects family, and the sites across the United States.
He told me that the highlight of the entire trip was running up the White House steps and being greeted by First Lady Michele Obama, whose Let's Move initiative focuses on helping families eat healthy and get active.
In running across the United States, Dean and I both had raised money and awareness for charities focused on combatting childhood obesity. Dean's efforts had benefitted Action for Healthy Kids, and mine had benefitted the United Way's Live United campaign.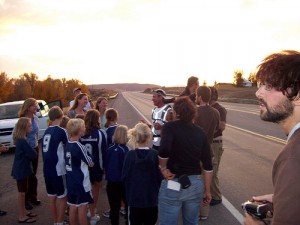 He'd run with groups of kids on his way across the country, just as I had, and we agreed that, although these events may have been orchestrated to inspire the kids, the kids really helped us to keep going. Several times, when I'd reached some intense lows, a group of kids — soccer teams in Nevada and Colorado, a couple of teenagers in Nebraska, even some preschoolers I spotted in a pumpkin patch in Pennsylvania, and more — showed up at just the right time to cheer me up and cheer me on.
This month, why not help some neighborhood kids train for a 5K race or fun run — get them excited about a goal and then help them work toward achieving it? Or start coaching beginning runners through your local track club? Or invite a pal who's mostly sedentary out for an easy jog?
There are lots of ways to help others get moving, and I promise this will re-invigorate your own love of running, too.
By the way, you can also win a $5,000 shopping spree from Dick's for tweeting about National Runners' Month. Become a "SuperFan" and compete for weekly prizes, too.
Below, let me know what you're already doing to help others get going with running. Be blatant and totally self-promoting, because the purpose here is to get the word out and garner support for you, and also to give others ideas for what they can do in their own community.
Or tell me about how someone helped you get started with running. Was there someone who invited you, encouraged you, set an example?