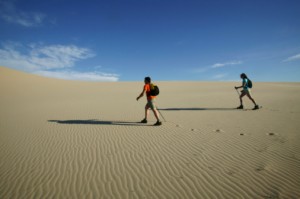 This Sunday, Dave Heckman and I head out to the desert to stash supplies around Death Valley National Park in preparation for our July circumnavigation. We hope to finish placing the caches before the end of the week.
In case you're wondering what a couple of people need to survive an expedition like this, here's what we're dropping into about 30 holes we'll dig in the sand:
Water: 500 gallons, most of which will be stashed in pairs of 1-gallon containers about 10 miles apart (however, around China Lakes, we're looking at five 1-gallon containers about 25 miles apart)
Food: mostly freeze dried Expedition Food provided by our sponsor, RacingThePlanet, plus a few MREs and canned meals to supplement
Miscellaneous: toothpaste, sunscreen, Sportslick, batteries for our GPS, and Sustain electrolyte tablets
Each stash will also have a note:
"Please don't disturb. We are making a 500-mile circumnavigation of this area during the summer 2012. Our lives depend on our access to this food and water."
We could certainly survive if someone felt they just HAD to pinch our toothpaste.