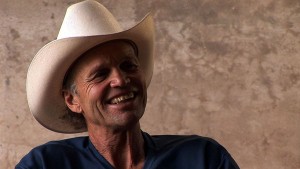 Micah and I met back in the mid 1980s at one of the Colorado ultramarathons. With his no-frills attitude about running and his cool name, he caught my attention right away. Both reminded me of the old T.V. western "The Rifleman" and its sheriff Micah Torrance, who was always behind the scenes working his magic and promoting the public good. He had overcome some obstacles in his life and would champion the cause of those less fortunate.
Later, I would find out that Micah True was born Michael Randall Hickman, but this and other tidbits from his bio never overshadowed my first impression, or the man he ultimately became.
Today, I was thinking about one race we had together, the now defunct "Doc Holiday" 35-miler, when I chased Scott Demaree (a sub-6-hour 50-mile runner) and Micah up and down the trails around Glenwood Springs, Colorado.  Neither of them looked much like runners (other than having the lean body type), Micah with his long unkempt hair and Scott sometimes wearing street pants — back then, there were really no good tights or high tech Gore-Tex cover, or at least any that any of us could afford.
Scott and Micah would battle for the lead and I would be a few places back, sucking wind and marveling at how fast those guys in front could fly. Only when we got to the Leadville 100 race could I outpace them. (One year during that run on the Winfield or the backside of Hope Pass, at about 45 miles into the race, I watched Micah clutching his quads, grinning from ear to ear knowing that he had gone out, as he said, "a bit fast.")
Recently, I read an article that averred "Micah True wasn't the fastest or best runner," but believe me, back then, he had speed. And after the races he would disappear back to Nederland, Colorado, a quirky little city that now hosts "Frozen Dead Guy Days," where he was living  at the time.
Later on in the mid-1990s, Micah was introduced to the Rarámuri, a.k.a. Tarahumara Indians, at the Leadville 100 and paced them (so, yes, he had to have had good speed). Chris McDougall wrote extensively about their relationship in Born to Run, and I believe that Micah helped pace the Rarámuri in more ways than running. He became someone they could trust.
I prefer to think of Micah as just Micah, and not Michael or Caballo Blanco. I recollect him as someone who devoted a big part of himself to helping or bettering the lives of those people he'd become so familiar with, and who'd become so familiar with him. I love what he had to say about that — a sentiment worth remembering him for:
"The Rarámuri are not 'super-human' as depicted by some.
They are very real people facing very real problems and issues,
like all of us. We are all much more alike than different."