Who needs nature? In an age when we rely so much on technology — for finding our way, amusing ourselves during "down time" (is it really down time if we're staring at a screen?), staying in touch with people, managing our lives — we all do, now more than ever.
One of the perks of spending extended time in Death Valley this summer was the serenity that came from turning all the gadgets off, from removing the distractions of ringing and dinging and pinging, as Richard Louv puts it in his book, "The Nature Principle: Reconnecting with Life in a Virtual Age" (Algonquin, 2012). Reading it, I'm fascinated by the scientific validation of what I've personally experienced and been theorizing for years: the best antidote for stress, fatigue, feelings of alienation (spiritual disconnection and separation from your surroundings), complacency (both physical and emotional), and plain old boredom is simply getting outdoors.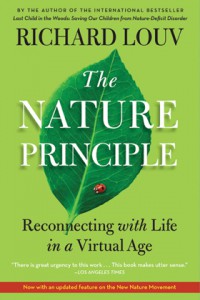 The book declares, "Nature is the ultimate antidepressant." It's full of statistics and studies and anecdotes that support its central idea: The more high-tech we become, the more nature we need.
Several years ago, Louv wrote "Last Child in the Woods," which introduced the idea of nature-deficit disorder, "the growing gap between [people] and nature" in our modern world, where people are ignorant not only of the names of natural things (plants, animals, rock formations, etc.), but also "blind" to them, not even noticing when they are present.
That first book was mostly about how important nature is to children, and this one focuses on how vital it is to adults. He asserts,  "… a reconnection to the natural world is fundamental to human health, well-being, spirit, and survival. … This collective disorder [nature-deficit] threatens our health, our spirit, our economy, and our future stewardship of the environment."
What do you think? Is it as dire as all that?
I'm asking because I want to hear about your experience. There's no denying that technology and other modern luxuries make our lives easier in many ways. But is that an entirely good thing? Consider this, which Louv illustrated with a story about tracking bears in the wilderness:
"The pleasure of being alive is brought into sharper focus when you need to pay attention to staying alive. Alive in the larger universe, alive in time." (p. 19)
Do you agree that feelings of "aliveness" are related to risk taking?
It shouldn't surprise you that I think they are. That pushing the limits, especially in unusual environments, excites me and contributes to a sense of meaning for my life. That I recommend pushing your own boundaries, exploring new places, whether that means taking a hike or going fishing or gardening or something more extreme, like ultra distances in remote locales.
The truth is that I resent technology most of the time. But I also appreciate its usefulness, even as I seek to minimize its impact on my life. I turn it off. A lot. But this book isn't an indictment of technology. It is an inducement to re-nature ourselves, restore balance and look up frequently from the virtual world to re-establish our sense of self in the real world.
In the end, I give "The Nature Principle" my full endorsement. It's the perfect book to read on a park bench, by the fire, or on a picnic blanket.