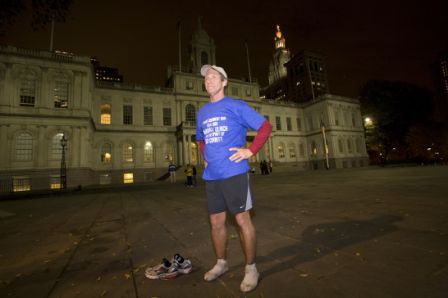 Happy anniversary to us!
It's been five years since Heather and I ascended the steps at New York City Hall together–nope, not to get married, but to celebrate the finish of my 3,062-mile run across America. (I tell you, I was never so happy to take off a pair of shoes!)
Signed, Limited Edition:
$24.95 this week only.
[This offer has expired. Thanks to those who purchased during this time. And congratulations to the winners of the prize packages!]
Just this week, November 4-8, 2013, we've knocked down the price of my book, Running on Empty: An Ultramarathoner's Story of Love, Loss, and a Record-setting Run Across America.  These are hardback copies, normally $30 plus shipping and available in limited quantities, which I've inscribed–and we're shipping for free within the U.S. (Can you say, "Hey, great gift!"?)
To commemorate some significant dates and stats associated with the transcon, we're also giving away
an assortment of running socks (Injinji and Zensah),
GoLite shirts,
Engo blister prevention kits,
some other surprise goodies,
plus bonus copies (no additional charge) of my book.
Prize packages will go to the people who buy the fourth, fifth, nineteenth, and fifty-second copies during this special-price period because …
On November 4, I finished my run across America.
It's been 5 years since that exciting day.
On September 19, I stepped off the starting line in San Francisco.
It took me 52 days to make my way on foot from California to New York.
On your mark, get set, go to the "Buy Now" button at right to order your copies, and we'll notify you right away if you're one of the winners. But when you're buying the book, signed and at a discount, how could you lose?