In addition to the Dreams in Action (DNA) Sponsors, Marshall is pleased to be working with the following companies, organizations, and people. Marshall also supports worthy events, companies, and services as listed below.
Marshall has more than two decades of experience in ultrarunning, adventure racing, and mountaineering. He knows how to put his Dreams in Action (DNA). Yet Marshall turned to Ray Zahab to train him for Running America in 2008. Why? Because even accomplished athletes benefit from coaching, and because Ray knows how to turn the impossible to Possilbe (i2P). Together, these two are unstoppable!
Marshall and Ray can teach you what you're made of
— it is more than you think! —
and how to put your dreams in action to make
what may have seemed impossible ... truly Possible!

Marshall began running in his thirties to help manage stress and lower his blood pressure. Until late 1998, Ray was a sedentary smoker. These are regular guys who have done incredible things. Marshall and Ray have teamed together to show you what you can accomplish. They offer the best training camps available for all levels of runners, whether you want to run your first 5K, marathon, or ultramarathon; or if you want to improve your training methods and learn how to improve your running. They are also putting together training camps for winter sports, mountaineering, and stage racing ... among other great things to come! Stay tuned.
Go to Marshall's Trainer page for more
information about the DNA/i2P training camps.
Marshall is also joining Ray on some of his i2P educational expeditions. Visit the DNA Events page for more information.
These companies provide support to Marshall as speaker, author, trainer, and guide, as well as support for various DNA initiatives. Marshall is grateful for their cooperation and support.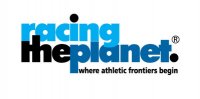 As an Expert Athlete for RacingThePlanet, Marshall tests and reviews gear and serves as an authoritative source on adventure racing and mountaineering, as well as a fan of the remote, rough-country "4 Deserts" races sponsored by this company. These are an annual series of 250km footraces in the Atacama Desert of Chile, the Gobi Desert of China, the Sahara Desert of Egypt and Antarctica, and one more that moves to a new location each year.
The Outdoor Store® sells the world's leading outdoor brands, tested in the planet's harshest environments.

Crocs was a sponsor of Running America and continues to work with Marshall on projects related to the run ... and beyond.
Crocs, Inc. is a designer, manufacturer and retailer of footwear for men, women and children under the Crocs™ brand. All Crocs™ brand shoes feature Crocs' proprietary closed-cell resin, Croslite™, which represents a substantial innovation in footwear. The Croslite™ material enables Crocs to produce soft, comfortable, lightweight, superior-gripping, non-marking and odor-resistant shoes. These unique elements make Crocs™ footwear ideal for casual wear, as well as for professional and recreational uses. For example:
During Running America, when Marshall reached Delta, UT (about 800 miles into the run) he developed plantar fasciitis on his right foot. After laying off that afternoon and night, the next day he started walking in Crocs™, as they were the only shoes that provided him with arch support with extraordinary cushioning. He walked about 20 miles in his Crocs before he could put on running shoes. He completed the day walking (he was unable to run) a total of 51 miles. Crocs™ truly helped to save the run for Marshall!
Marshall does shoe testing for Pearl Izumi. In 2008, Pearl Izumi provided Marshall with test models of their 2009 shoes ... and Marshall really put them to the test, as he wore (and wore out) several pairs of Pearl Izumi shoes during Running America. Yes: running an average of more than 58 miles per day for just over 52 days in a row will certainly test a running shoe! And, the Pearl Izumi shoes performed fantastically. Since then, Marshall continues working with Pearl Izumi and is thankful for their continued support.
Pearl Izumi was started more than 50 years ago in Japan, and has been distributed in the U.S. since 1981. Today, Pearl Izumi USA, Inc. is the world's foremost line of technical- performing and quality manufactured sports apparel. Their name is derived from the gem, "pearl," and an area of Japan known for its clear water, "Izumi." Literally translated, their name means "fountain of pearls." Pearl Izumi remains dedicated to meeting the needs of the serious sport enthusiast, including biking, cross-country skiing, triathlon, duathlon and, of course, running!

The United Way's Live United campaign was the official charity of Running America, and Marshall and others associated with the run continue to work to further the support for Live United. It is a natural fit, as the United Way is working to advance the common good by focusing on education, income and health. These are the building blocks for a good life: a quality education that leads to a stable job, enough income to support a family through retirement, and good health.
Your donation will help United Way of America achieve its national goal to increase by 1.9 million the number of youth who are healthy and avoid risky behaviors by 2018. Join United Way and Marshall to encourage youth to be more active and physically fit.


Vita-Mix was a key sponsor of Running America, and continues to work with Marshall and others on projects related to the run, including the book Marshall wrote about it.
Vita-Mix has been making healthy eating easy since 1921. It is the goal of Vita-Mix Corporation to help create awareness that healthy eating can be fast, easy, and delicious. Vita-Mix supported Running America by providing healthy smoothies made in the Vita-Mix along the course of the run. Sponsoring Running America is another way Vita-Mix is demonstrating their commitment to health, fitness, and a Better Life.
VQ OrthoCare was a key sponsor of Running America, and continues to work with Marshall and others on projects related to the run, including the book Marshall wrote about it.
VQ OrthoCare, a privately held corporation founded in 1989, is a leading provider of noninvasive medical solutions focused on bone, joint and soft-tissue conditions. Services include in-home patient fitting of braces and medical devices, technology-enabled compliance monitoring, physician and payor support, and around-the-clock patient care. VQ OrthoCare is based in Irvine, California, and is supported by account executives in field locations nationwide. Their manufacturing facilities, located in Vista, California, produce many of their proprietary products.
VQ OrthoCare's support of Running America was critical to Marshall's success. Just some of the VQ OrthoCare products that Marshall used during Running America included the following.
Thanks to VQ OrthoCare and medical support and massage during Running America, Marshall was actually able to run the equivalent of 117 marathons in just over 52 days.
Come to our home county, Clear Creek, CO to run the highest DOWNHILL half-marathon in the United States. Don't be misled by the name, though: the Slacker half-marathon, marathon relay and 4-mile events are still races. Fast races. Beginning at 10,630 feet and traveling over a rolling hill descent to 8,400 feet! The Slacker Races are a nonprofit corporation benefitting worthy charities in our county, including our favorite, the local animal shelter.
Sponsored People, Events, and Services

Marshall is pleased to support the following organizations, companies, and events. More information will be provided later but, for now, please click on their logos to visit their Web sites!