Marshall is grateful for the support of his sponsors—from gear, shoes, and clothing to financial support for his adventures, allowing him to put his Dreams in Action. Many of his sponsors also support for his fundraising and other humanitarian efforts.
A HUGE thanks to all of Marshall's sponsors!
Please visit Marshall's sponsors by selecting the logos or links below. The products from all of these companies have been tested by Marshall in the harshest environments and conditions, including the Seven Summits, Death Valley, hundreds of ultras, and dozens of adventure races. They are THE BEST products available.


CAMP has been providing quality, lightweight mountaineering equipment to Marshall since 2001, and supported Marshall's successful Quest for the Seven Summits. Over the last several years, CAMP has developed many of the lightest products across a large range of product categories. The innovation with which CAMP approaches product development is in response to a simple question: Why carry more than you have to? The answer is simple: there is no reason to carry extra weight. Marshall has used CAMP crampons, ice axes, harnesses, carabineers, and helmets on the Seven Summits and during numerous adventure races—putting to the most extreme tests possible ... and loves it all.


Dermatone has been creating sunscreens for the outdoor enthusiast for overt 25 years. Their skin products encompass a total range of sunblock products to meet any weather challenges—and Marshall has put their sunscreen and lip protection to the most severe challenges: direct sun on the summit of Mount Everest, blistering heat in Death Valley, and sun reflected off glaciers on mountains around the world. Marshall's favorite just might be the big, 1-inch diameter Facial Sunblock Moisturizing Stick. His wife's favorite? The "Wake Up and Kiss the Beans" coffee-flavored Lip Balm.
ENGO Blister Prevention Patches:
Prevent blisters by preventing friction from rising to blister-causing levels

Provide immediate relief of blister pain to help heal existing blisters faster

Are long-lasting - proven to last 4 to 6 weeks

Are easy to use - just peel, apply and go!
Marshall has put ENGO patches to the test during the most grueling ultrarun imaginable: his 3,063-mile crossing of the U.S. in 52.5 days as a part of Running America. That's the equivalent of 117 marathons! He has also put ENGO patches to test at the Badwater 146 race, Gobi March in China, and ultraruns and mountains around the world. During Badwater, Marshall runs on the pavement in punishing temperatures of up to 120 degrees Fahrenheit in Death Valley, to freezing temperatures on the trail up to the 14,494-foot summit of Mount Whitney ... with no blisters. Thanks ENGO! For keeping Marshall blister free, and for your support of his training camps and events.
Free samples from ENGO!
Send email to info@goengo.com with the subject line,
"Marshall Ulrich Sample Offer."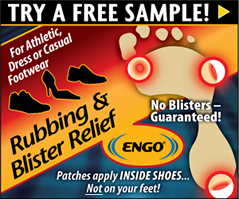 ExOfficio has been providing rugged, functional, and stylish clothes to for Marshall since 2001, and he continues to test their new products every season. What a joy it is when that package of new clothing comes, as Marshall knows he'll love it all—and his wife knows that he'll look great too! ExOfficio clothing has some of the most advanced clothing technology around: like indestructible buttons, built-in UV protection, and security-zip pockets. ExOfficio: Clothing for the Adventurous Spirit! Put your Dreams in Action by following your adventurous spirit, and look good doing it in ExOfficio clothing!

GoLite provides Marshall with the best lite-weight equipment available, including backpacks, sleeping bags, jackets, clothing, and accessories.
Marshall took a GoLite pack to the top of many of the Seven Summits, including to the top of world, 29.035-foot Mount Everest, in May 2004. One GoLite Slant pack, which he had used before he even started, went 3,063 miles across the continent during Running America. That's 52.5 days of running about 18 hours each and every day. Now that's... several years worth of use for an average runner? Marshall loved that thing, and would have just kept right on wearing it, but GoLite insisted he get a new one. :)

GoLite outfitted Marshall and the GoLite team for the 2007 Gobi March in China, including shoes, packs, sleeping bags, jackets, shirts, pants, shorts, water bottles and hand straps, and hats. See Marshall's blog for race reports for the Gobi March. GoLite also supports Marshall's training camps and events.

GoLite is dedicated to offering products for active outdoor pursuits that enable you to embrace new adventures without the burdens of heavy, overbuilt gear. GoLite products offer uncompromised performance and versatility at the lightest possible weight. Today GoLite is the world's leading manufacturer of lite-weight outdoor clothing and equipment, driving product innovation in a wide range of outdoor sports.

But GoLite is far more than a collection of products. It is a mindset, a mission, a directive, an ideal that infuses every design, concept and idea. It is as much a philosophy as it is a commandment to do much more with much less. GoLite is about freedom. About being unburdened by the mundane, the over-engineered, or the obsolete. It is about being connected to nature in the purest way. And about going lite on the trail, on the planet, and in one's life. Marshall believes in the GoLite mission to do more with less and going lite on the trail.
Lite Speed is Possible


Injinji socks have "saved" Marshall's feet since he first tried them during Badwater in 2003. After the first 40 miles, he took his shoes off for the first time and was pleasantly surprised to not see a single blister. He scratched his head and told his crew, "Wow, imagine that, something that actually works!" Now Injinji are about the only socks he'll wear, whether running, climbing mountains, or just kicking back. Injinji supported Running America through donations of their socks. Injinji also supports Marshall's training camps by providing other runners with their amazing socks.


Humm Foods, the creator of LÄRABAR firmly believes that the foundation of a healthy mind, body and spirit is derived from what you eat. And what you eat is healthiest and most satisfying when it's in a whole, natural state that, when consumed, cause you to feel vibrant and alive. Packing plenty of calories per ounce of bar weight, Larabars are especially perfect for self-supported multi-day stage events like the Gobi March. Oh... and Marshall likes to warm up their Pecan Pie bars in the microwave at home and top them with vanilla ice cream. Maybe not the health food approach Larabar had in mind, but... yum, they taste great!


LEKI, the world's leading manufacturer of ski, hiking, and trekking poles, has been a product sponsor to Marshall for almost 10 years. Marshall even took a LEKI pole to the top of the world, to the 29,035-foot summit of Mount Everest, in 2004!! Marshall used LEKI poles during Running America, in numerous adventure races, including several Eco Challenges around the world, and during the 150-mile Gobi March in China. Marshall is also grateful for LEKI's support of his training camps and events.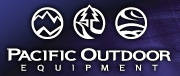 Pacific Outdoor Equipment uses InsulMat and WXtex to make great gear to take on the trails, mountains, and rivers. Marshall used their sleeping pads on Mount Everest and continues to use them on many other mountains, keeping him warm and comfortable. Pacific Outdoor expedition dry duffels have been on yaks on Mount Everest, mules on Aconcagua, on top of porters' heads on Kilimanjaro, and on many other mountains and expeditions around the world. Team Stray Dogs GoLite used the best light-weight sleeping pads provided by Pacific Outdoor for the 2007 Gobi March. Pacific Outdoor also supported Running America by donating camping chairs and inflatable pillows to keep the crew comfortable: not that anyone had a whole lot of time sit and relax, or sleep! But, when they did, they were comfortable! Thanks also for Pacific Outdoor's support for Marshall's training camps and events.
Sportslick Skin Lubricant prevents blisters, chafing, and skin rash. It's an easy to apply gel for extremely long lasting waterproof lubrication, with an antifungal (something most other products are lacking!). Marshall has been using Sportslick for almost 10 years and it has made his racing much easier. During adventure races, Marshall used to suffer with trench or dredge foot, but Sportslick eliminated that worry. Marshall used Sportslick (on more than just his fee) each and every day during Running America, with great results: no chaffing and very, very few blisters - even though he ran more than 58 miles every day for more than 52 days. Don't even think about using anything else: Sportslick works!


Woolpower provides Marshall with high performance thermal undergarments for the entire body that can be combined in different ways depending on temperature and activity. Woolpower garments are made in Sweden from Ullfrotte Original material and are available in 200, 400, 600 och 800 g/m². Marshall wore their long underwear, socks, and sweater with full zipper during his successful climb of Mount Everest in 2004. Two months, two pairs of long underwear, 29,035 feet, and temperatures well below zero: he loved it all, stayed warm, and did not stink (really! ask his wife, who met him at base camp after the climb) with Woolpower!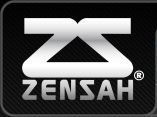 Zensah was created to help athletes at all levels improve performance by wearing sportswear developed with the use of cutting-edge technology. Zensah's revolutionary seamless design consists of an ultra-breathable, moisture wicking fabric that draws sweat away from the body, allowing you to to stay cool, dry and light. Zensah has supported Marshall - including for Running America - by providing some of their best clothing, including compression shorts, tights, and leg sleeves.
Become a Sponsor of Marshall Ulrich, Dreams in Action
To apply to become a sponsor for Marshall Ulrich, Dreams in Action, or for questions or information regarding any of Marshall's current sponsors, please contact us.

Thank you for visiting
Marshall's sponsors!